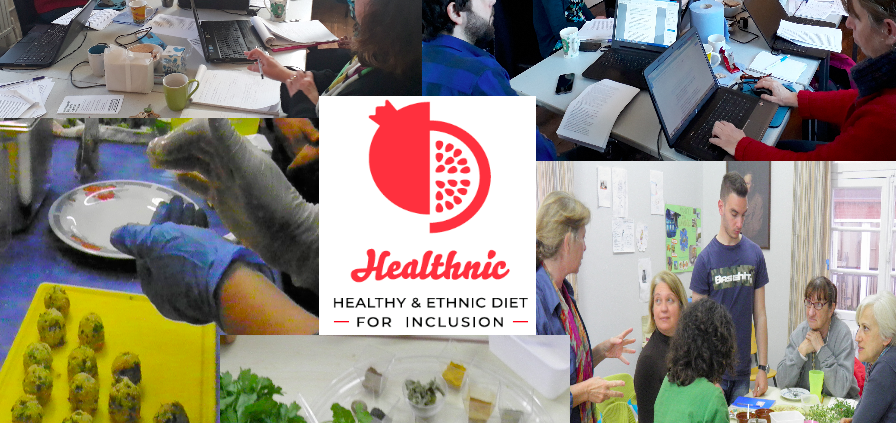 Draft version of "The practical Guide to Healthnic Diet workshops" has been completed
Vardakeios School, ITT and MRSN worked since October 2017 on the writing of draft version of "The practical Guide to Healthnic Diet workshops". It was a challenging task as the representatives of the organisations had to collaborate from a distance with the exception of a 5- day meeting in February in Liverpool where they all had the chance to work together closely.
The Practical Guide is divided in two parts: the theoretical and the implementation part.
A trainer that would like to organize a Healthnic workshop can find in this Guide useful information about the importance of participatory learning, activities on group building and cultural exchange, social inclusion issues, references on nutritional education, home economics and active citizenship.
Most importantly on the implementation part there are step by step instructions on how to organize a cooking workshop and how to enrich the process with detailed instructions on digital storytelling activities that will involve participants in the production of digital stories about food.
At the end of the Guide there are also four annexes that offer information about digital storytelling, rules of nutritional diet, culinary terminology, food vocabulary and uses of herbs and spices.
The Guide is helpful to professionals working with vulnerable target groups such as refugees, immigrants and unemployed people but also to anyone that would like to acquire healthy eating habits by being open-minded to traditional food experiences.
During summer the Guide will be edited in order to be uploaded on the e-platform and later on it will be translated in Greek, Italian and Polish.
https://healthnic.eu/wp-content/uploads/2018/06/healthnic-news-draft-guide-ready.png
700
896
anna
http://healthnic.eu/wp-content/uploads/2017/12/logoHealthnic_web.png
anna
2018-06-03 14:47:04
2018-06-04 11:01:39
Draft version of "The practical Guide to Healthnic Diet workshops" has been completed