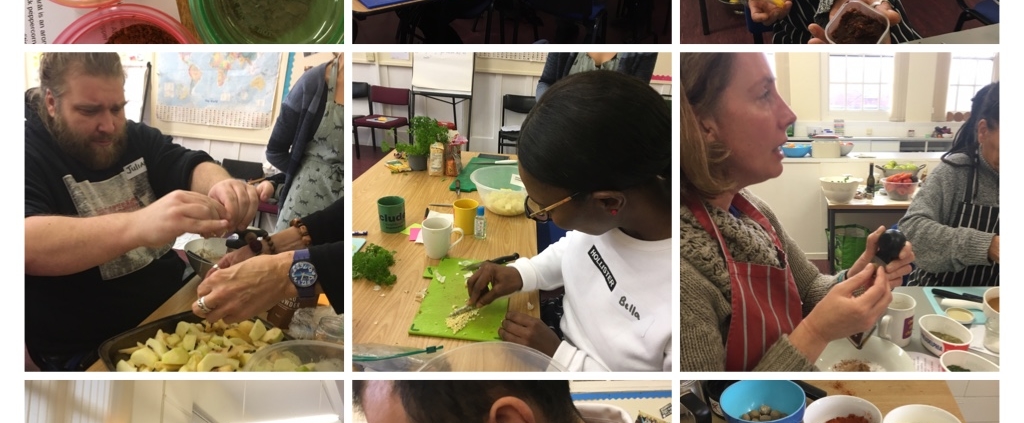 Fifth day of the Liverpool Healthnic workshop
28 November, Merseyside Refugee Support Network's fifth and final Healthnic cooking session.
Before embarking on cooking the dishes that participants planned at the last session, there was a discussion and activity which aimed to deepen and expand knowledge of the many ways to use herbs and spices in cooking.
After researching herb and spice combinations essential to many cuisines across the world, each group produced a specific combination – Jerk seasoning (Caribbean), Garam Masala (Indian subcontinent) and Baharat (Middle East) – grinding a mix of spices with a pestle and mortar (new words for some participants towards overcoming language barriers and building the glossary). Everyone had a mix to take away to inspire and enhance their everyday cooking at home and share with friends and family. Participants developed an increased awareness and knowledge of spices and combinations including those regularly seen on supermarket shelves.
The activity further strengthened the sense of community with the group. As beautiful aromas filled the air, individual stories and memories about childhood and home were shared about tastes, smells and feelings which engendered a sense of security and pride about home. By sharing memories and focussing on similarities across cultures and countries an appreciation and understanding of all cultures was enhanced developing a greater sense of inclusion for all.
Cooking the final intercultural meal began with participants relaxed and enjoying the experience, incorporating all the knowledge from the previous sessions about healthy eating, nutrition, diversity and affordability.
Healthnic brought diverse communities together but was not just an exchange of cultures and cuisines it was a vehicle to learn and reflect about the health benefits of new and older recipes transforming the taste and diversity of each culinary dish.
Next, digital story-telling.
https://healthnic.eu/wp-content/uploads/2018/12/Session-5-collage-.jpg
1024
1024
anna
http://healthnic.eu/wp-content/uploads/2017/12/logoHealthnic_web.png
anna
2018-12-12 08:29:28
2018-12-12 08:29:28
Fifth day of the Liverpool Healthnic workshop