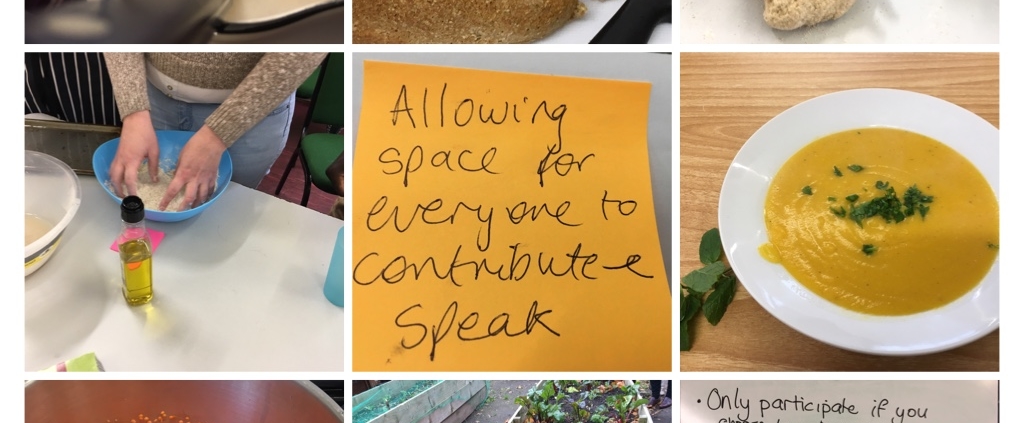 First day of the Liverpool Healthnic workshop
It was the last day of October and the first day of the Liverpool Healthnic workshop at the John Archer Hall based in the heart of the Toxteth community.
Session one began with introductions and all together we shared with what we had for breakfast – tea and toast the most popular start to the day!
We began to build group relationships through open discussion with a few icebreakers, using pieces of fruit (healthy eating being a focus of the day) and learnt a little about each other.
In groups we exchanged ideas about the essence of our diverse traditional cuisines with the similarities that exist across 'borders' transpiring naturally.
All together we discussed and agreed joint aims and rules for our sessions to create an enjoyable, respectful and safe experience.
in groups, we began baking bread. This was a bonding as well as educative activity in which we shared expertise, tips and stories. With sticky fingers, we learnt more about each other, and worked out stretching and pulling until the dough was smooth and ready to shape and bake.
While the bread baked, we explored the John Archer community garden and picked coriander to add to the soup that was provided for lof unch and mint for tea.
As everyone was smelt and tasted the wide variety herbs, memories and stories flooded out with stories from England, Pakistan, Turkey, Sudan, Tobago and Burundi.
As we returned to the kitchen the beautiful aroma of baking bread whetted our appetites reminding us it was time for lunch. The bread was sliced into 'doorstep' chunks and served with a bowl of nutritious carrot and lentil soup.
Over lunch, our Heathnic community continued to discuss the essence of our cuisines and agreed plans for the next session.
https://healthnic.eu/wp-content/uploads/2018/11/Session-1-JPG.jpg
1024
1024
anna
http://healthnic.eu/wp-content/uploads/2017/12/logoHealthnic_web.png
anna
2018-11-17 07:01:33
2018-11-17 07:01:33
First day of the Liverpool Healthnic workshop