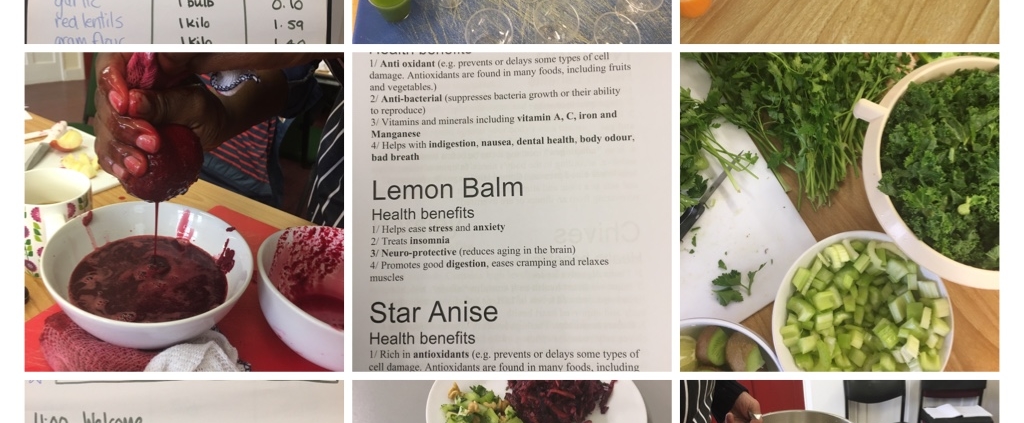 Fourth day of the Liverpool Healthnic workshop
21 November, Merseyside Refugee Support Network's fourth session of the Healthnic workshop was jam-packed with activities, planning, reflection, learning and cooking with a focus on maintaining a healthier diet.
So, to give energy levels a boost participants formed three groups ('carrot and ginger' – immunity boost, 'beetroot and lemon' – immunity boost and 'kale and lime' – moisture and detox) and made a juice cocktail from vegetables, herbs and spices. A significant quantity was produced so everyone could savour a shot of each distinctive cocktail. All that was needed were the disco lights, as the atmosphere buzzed with discussion about individual taste preferences. The sweetness of the blood red beetroot shot took it to the top of the charts, whilst the bitterness of the pea green Kale shot came last.
Now super energised, knowledge on the properties of herbs and spices was presented including information about how herbs and spices help maintain vitamins and add flavour.
In groups stories, reminiscent of a cherished childhood meal were shared, fascinating tales including the Caribbean breakfast of blue crab, callaloo and bread fruit. These reminiscences informed how particular foods, herbs and spices have come to influence flavours and tastes across cultures and generations.
Next, in an individual exercise, participants reflected on their personal diet and considered changes that could be introduced towards a healthier eating regime and its value.
Returning to group activity, participants used a recipe board to plan and cost ingredients for a dish in the final cooking session next week. Prime consideration was given to healthy, nutritional and affordable foods. With the consideration of Healthnic's inclusion goal each participant modified the dishes with a culinary influence from their own country.
Finally, it was time to cook and eat. Today, each group was produced a different course for lunch using local and seasonal produce flavoured with herbs and spices.
Socialising over the meal of vegetable soup, beetroot salad and apple, cinnamon and nutmeg crumble everyone conferred about the benefits of whole grain over "white" grain and reflected on the cost of the ingredients for each course, reinforcing the question of affordability, nutritional value and importantly of taste, when using fresh local and seasonal ingredients linked with nutritional value and taste.
https://healthnic.eu/wp-content/uploads/2018/12/Session-4-collage-.jpg
1024
1024
anna
http://healthnic.eu/wp-content/uploads/2017/12/logoHealthnic_web.png
anna
2018-12-10 14:37:01
2018-12-10 14:37:23
Fourth day of the Liverpool Healthnic workshop